COMMENTARY
Confusing messages on COVID taking a psychological toll
Publish date: January 3, 2022
By Robert T. London, MD
The Centers for Disease Control and Prevention's decision to shorten the length of isolation time for asymptomatic Americans with COVID-19, regardless of their vaccination status, to 5 days from 10 days is confusing. I hope the agency reconsiders this decision.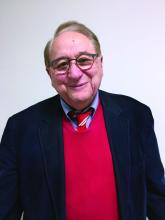 Dr. Robert T. London
After all, one of the CDC's key messages during this pandemic has been that even people with asymptomatic COVID who have been vaccinated and boosted can transmit the disease. So it seems to me that the Dec. 27, 2021, recommendation about shortening the isolation time for COVID-19–positive people, like the agency's earlier guidance encouraging people who are vaccinated to stop wearing masks while in indoor settings, runs contrary to good public health principles.
As an expert in human behavior, I am worried about the impact of these confusing messages on the psyche of people in general, as well as on our patients.
Mental health impact
Soon after the United States went on lockdown in March 2020, I wrote about the likelihood of a pandemic of PTSD, anxiety, and depression that would occur in the wake of rising COVID-19 rates. Well, it happened.
Is COVID-19 leading to a mental illness pandemic?
Many people have felt a sense of existential despair, depression, and anxiety. As we head into year No. 3 of disruption of our daily lives – and face the loss of more than 825,000 Americans to COVID – we continue to navigate this uncertainty. And now we must deal with Omicron, a variant that is so highly transmissible that it is apparently able to, in some cases, evade two-dose regimens of mRNA vaccines, boosters, and immunity from past infections, according to a report from Imperial College London. Yet, we are being told by some that Omicron might be less severe, compared with other variants. I worry that this assessment is misleading. In that same report, the Imperial College said it "found no evidence" that Omicron is less virulent than Delta, based on the risk of hospitalization and symptom status.
Meanwhile, animal studies suggest that the Omicron variant might lead to less lung damage than previous variants. A preprint article that is being considered for publication by a Nature Portfolio journal suggests that hamsters and mice infected with the Omicron variant do not have as much lung damage as those infected with other variants. More data need to come in for us to get a true understanding of Omicron's virulence and transmissibility. We should keep an eye on Israel, which is launching a clinical trial of a second booster, or fourth mRNA shot.
COVID-19 fallout makes case for promoting the mental health czar
As clinicians, we should give our patients and other people with whom we come in contact a sense of hope. In addition to urging people to get boosters, let's tell them to err on the side of safety when it comes to this pandemic. That means encouraging them to remain isolated for longer than 5 days – until they test negative for COVID. It also means encouraging patients to wear high-quality face masks while inside public spaces – even in the absence of mandates. I have found it heartbreaking to watch televised broadcasts of sporting events held at some stadiums across the country where masks are not being worn. This absence of face coverings is counterintuitive at a time when some Broadway shows are closing. Even the great Radio City Rockettes shut down their holiday shows early in December 2021 because of COVID.
And, as I've argued before, we must not give up on unvaccinated people. I have had success in changing the minds of a few patients and some acquaintances with gentle, respectful prodding and vaccine education.
I would also like to see public health principles implemented in our schools and colleges. To protect the health of our children and young adults, we must continue to be nimble – which means school districts should implement layered prevention strategies, as the CDC recommends. This includes not only encouraging eligible staff members and students to get vaccinated, but requiring face masks inside school facilities, maintaining a physical distance of at least 3 feet, "screening testing, ventilation, handwashing, and staying home when sick."
Furthermore, in deciding whether schools should remain open or be closed after positive COVID cases are discovered, officials should look at the vaccine demographics of that particular school. For example, if 15% of students are vaccinated in one school and 70% are vaccinated in another, the judgment would be different. Of course, it's clearly best for schools to remain open, but perhaps closing them temporarily – perhaps for a week or 10 days – should be on the table if infection rates reach a certain level.
Now that we know more and have the benefit of getting more than 200 million Americans fully vaccinated, we can be far more selective about closings and openings. An important part of our strategy must be to communicate honestly with the public about which measures are best for safety. As a key tenet of cognitive-behavioral therapy tells us, "all-or-nothing" thinking is not productive. That should also be the case with our approach to managing COVID-19.
COVID-19: Delta variant is raising the stakes
We don't know the future of the pandemic. Yes, it will end, and possibly COVID will become endemic – like the flu. However, in the meantime, in addition to promoting vaccinations and boosters, we must rigorously encourage our patients to follow public health standards of masking, social distancing, and closing down businesses – and schools – temporarily.
This pandemic has taken a horrendous mental health toll on all of us – especially our patients and frontline health care workers. I've spoken with numerous people who were anxious, depressed, and showed signs of PTSD in early 2020; after they got vaccinated, COVID spread diminished, and as public health protocols began to lift, so did their spirits. Clearly for some, the benefit of psychiatric/psychological care centering on the pandemic has proven invaluable. In some ways, the pandemic has brought to the surface the importance of mental health care and removed some of the stigma from mental illness. And that's a good thing.
Dr. London is a practicing psychiatrist who has been a newspaper columnist for 35 years, specializing in writing about short-term therapy, including cognitive-behavioral therapy and guided imagery. He is author of "Find Freedom Fast" (New York: Kettlehole Publishing, 2019). He has no conflicts of interest.